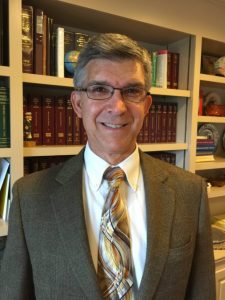 John C. Seipp
After graduating from public high school in Delaware County, Pennsylvania, John attended the University of Delaware and graduated summa cum laude with a degree in biological science. He was inducted into the Phi Beta Kappa and Phi Kappa Phi honor societies. He then attended the National Law Center at George Washington University, graduating cum laude, Order of the Coif, and Editor of the George Washington Law Review, earning a Juris Doctorate in 1979. After accepting a clerkship with Maryland Court of Appeals Judge Irving Levine, he began his legal career as an associate attorney with Adkins, Potts and Smethurst in Salisbury, Maryland, where he became a partner in 1985.
In 1995 John started his own solo practice, which soon moved to its present location in a 3-story historic carriage house adjoining the Salisbury Downtown Plaza.
John has been active in numerous civic, governmental and Christian organizations. He has served on the boards or as legal counsel to the Christian Shelter, Joy 102.5 Radio, Chamber of Commerce legal affairs committee, Shore Bank, the Salisbury Gun Club and was a member of the Salisbury Rotary Club for many years. He was appointed by Governor William Donald Schaefer to the Wicomico County Board of Education and served from 1987 to 1996; and was appointed by Governor Robert Ehrlich, Jr., to the Maryland Judicial Nominating Commission for the First District and served from 2003 to 2007. He was invited to join the Greater Salisbury Committee in 2008; and continues to serve with that Committee influencing positive community growth, problem solutions, and economic development on Delmarva.
He is a member of the Wicomico, Maryland, and National Bar Associations and is admitted to practice before all Maryland's courts, including the Maryland Federal District Court and United States Bankruptcy Court. He also maintains affiliations with the Center For Law and Religious Freedom and the Christian Legal Society.
Outside of law practice, John enjoys saltwater fishing, hunting, working on the farm, and serving his Church, where he serves as member of the Church Session, teaches Adult Sunday School, and plays the bass in the Church praise band.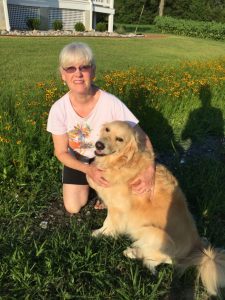 Charlotte E. Seipp, RDH, Office Manager
After graduating from Nether Providence High School in Wallingford, PA, Charlotte attended Beaver College (nka Arcadia University) in Montgomery County, Pennsylvania and later transferred to Temple University in Philadelphia University, where she earned a BS in Dental Hygiene.
After practicing dental hygiene in several periodontic practices in Newark, DE and Washington , D.C., Charlotte moved to the Eastern Shore and began working for periodontist Dr. Donald E. McShane, and later for Dr. Stewart I. Perim, D.D.S., M.S.
In 1996, Charlotte started as bookkeeper for the Law Office of John C. Seipp, and became the Office Manager for that Law Office in 1996. She remains employed in this capacity. Charlotte raised two Sons who both attended the United States Merchant Marine Academy and pursued careers in the Maritime industry and US Navy, following in the tradition of their maternal and paternal grandfathers. In her spare time she enjoys gardening, various crafts, aerobics, reading, working on the farm and serving in as co-director of hospitality at Providence Presbyterian Church.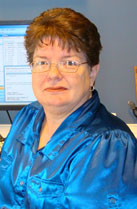 Carol MacDonald (Webb), Legal Assistant
Carol MacDonald was born and raised in the Salisbury area. She graduated from Parkside High School in Salisbury. Carol worked for Montgomery Ward in Salisbury, where she met and married her husband of 26 years John, before he died of cancer in February of 2007. Carol has two sons, John C. MacDonald of Delmar and Stewart M. MacDonald of Rehrersburg, PA.
On January 17, 1984 Carol was employed by District Court of Maryland for Wicomico County, serving initially in the Criminal Division. She also supported the Traffic Department and served as backup Courtroom Clerk. In August 1986 Carol started as a full time Civil Clerk, being later promoted to Supervisor of that section. She handled all aspects of the Civil Department, which included: Civil Law Suits, Landlord & Tenant, Domestic Violence, Peace Orders, Mediation and all post-judgment proceedings. The complexity of the Civil Department demands a person with broad legal knowledge and experience to adequately supervise it. Carol earned the respect of the Judges of the District Court as well as the local attorneys. She served on the District Court's Civil Committee and the Conflict Resolution Committee in Annapolis. Among local attorneys, Carol was regarded as the "Civil Expert", earning the well-deserved reputation as the go-to person to get answers involving the Civil Division. She was a great asset to the Maryland Judicial System during her many years of service.
In addition, from November of 1999 until June of 2007, Carol was employed part-time with the Delmar Police Department as data entry clerk and night time dispatcher. She was responsible for entering officers' reports in the computer information system, filing, and assisting the public. Carol also assisted the police officers and was responsible for dispatching them to locations to address incoming complaints. Carol developed a good rapport with the Chief of Police and the officers and earned their respect. Many times the Delmar Police Officers have lamented the void in the atmosphere of the office following Carol's departure.
In May of 2008, having served the Maryland Judicial System for almost 25 years, and the Delmar Police Department for seven years, she continued her legal career in the private sector, taking the position of Legal Assistant with the Law Office of John C. Seipp. Carol is engaged regularly in litigation support, investigations, collections, and probate administration.